Regular price
$32.00
Sale price
$25.00
Unit price
per
people are currently looking at this product
In-practice level teeth whitening.
Achieve dentist-smooth & clean teeth.
Safe for enamel and gums.
Non-peroxide formula: No sensitivity
Instantly makes your teeth whiter and brighter from the very first use, Smirk® Teeth Whitening Strips penetrate beneath the enamel to lift teeth staining from within.

Peroxide-free and safe to use on sensitive teeth, Smirk® dentist-approved Teeth Whitening Strips safely remove staining caused by coffee, alcohol, food, smoking and other overindulgence to produce a powerful whitening effect.
For teeth that are fresher than the Prince of Bel Air, achieve the pearly whites you're pining for with Smirk® Teeth Whitening Strips now!
This item is not included in the current storewide offer. 
Tap for a free powder (with code BRITE)
You've got a free powder (with code BRITE)
Free Next Day Delivery | 6 month supply
View full details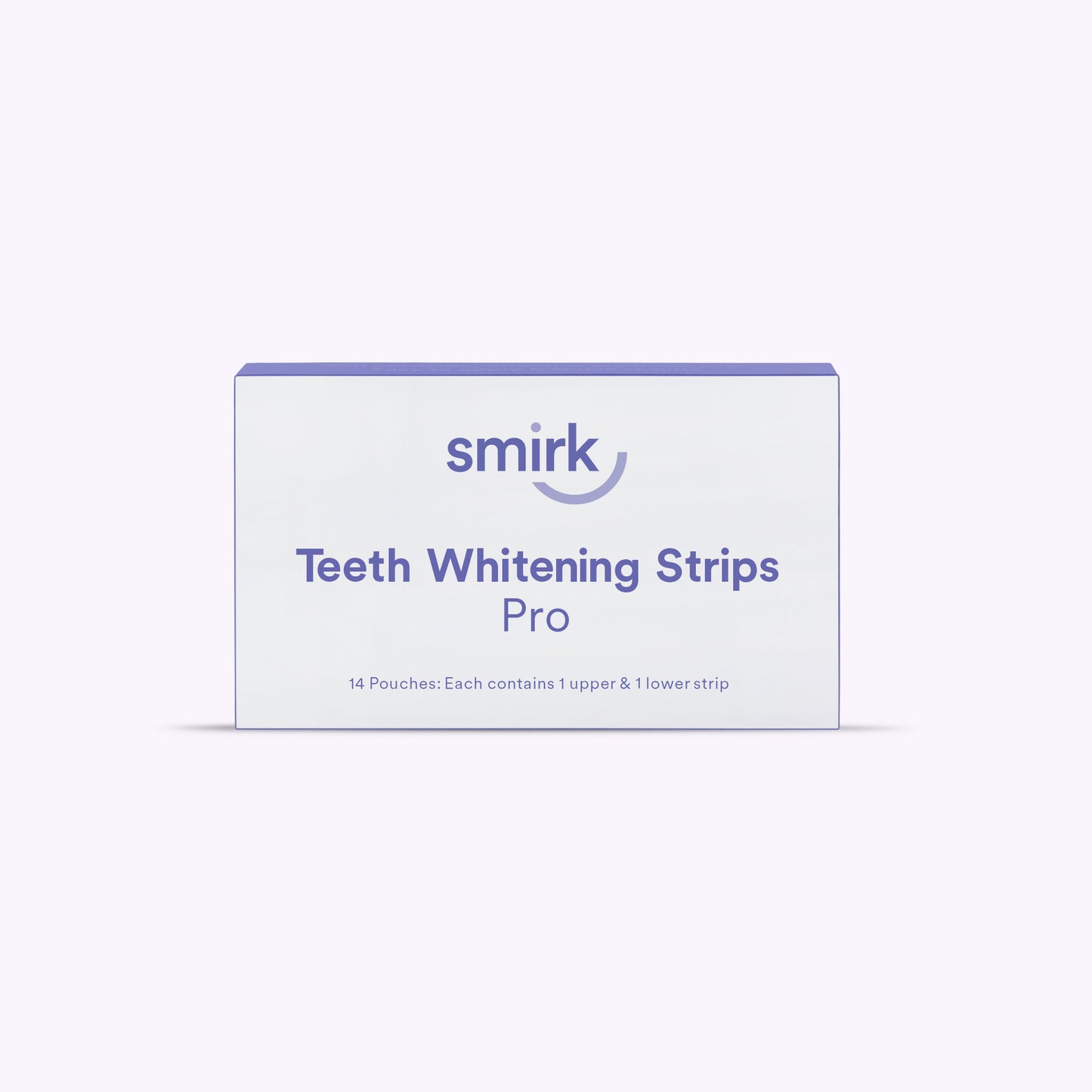 How Does It Work?
Hydrated Silica

The original teeth whitening powder, now empowered by advanced PAP Pro technology. Unleash its transformative power to achieve a whiter, cleaner smile that defies expectations.

Sodium Chlorite

A natural mineral found in teeth and bones. New research supports its effectiveness in whitening teeth. HAp has many additional benefits including enamel repair and plaque removal.

Tetrasodium

Helps remove stains by binding to the ions that cause discolouration in food and drink. Enhances the health of your mouth by balancing pH. Inhibits plaque formation by disrupting dental biofilms.

Cyclodextrin

Traps compounds that contribute to bad breath, such as sulfur. Creates a hostile environment for bacteria that cause bad breath. Improves breath freshness by reducing plaque.
Stains, be gone!
Introducing our breakthrough: PAP Pro Teeth Whitening Powder, the ultimate secret to a gleaming smile. Remove stubborn stains and tartar buildup with our formula that goes beyond brushing alone. In just two minutes, you'll see a transformation as it effortlessly removes stain layers and restores the natural colour of your teeth.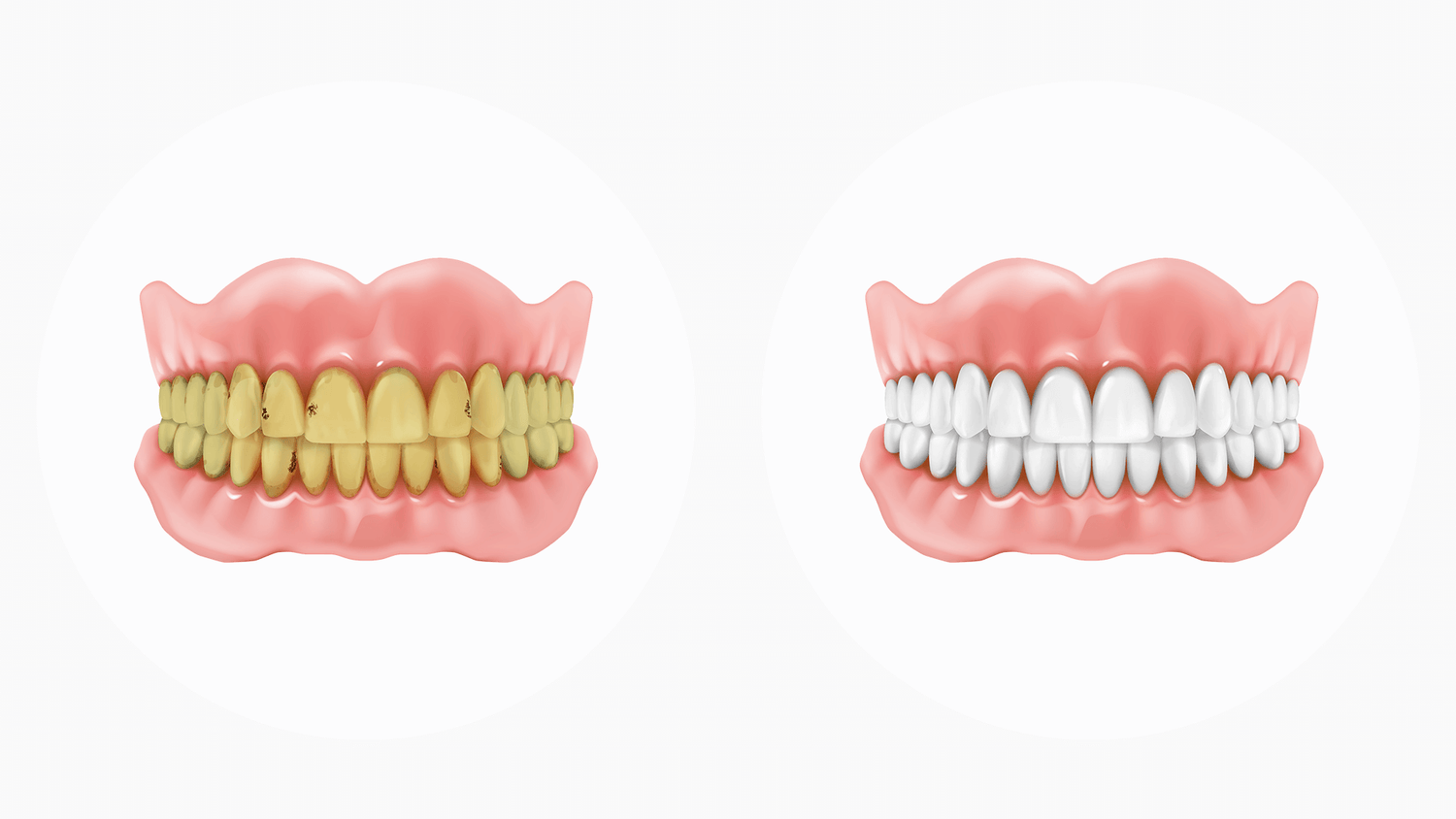 Confidence, in a pot.
Remove stains, yellowing, and plaque caused by coffee, tea, food, wine, tobacco and more with our Teeth Whitening Powder. With our transformative powder, you'll be able to effortlessly eliminate the aftermath of these daily indulgences, revealing a whiter, brighter smile in no time. It's like confidence in a pot!
F.A.Q
How do I use it and how often?

Easily incorporate our Teeth Whitening Powder into your routine. Dip your toothbrush into the powder, brush for 4 minutes, twice per week, in addition to regular brushing. Gradually remove stains from coffee, tea, food, wine, and more while enjoying a refreshing minty taste.
Can it replace my regular toothpaste?

Our Teeth Whitening Powder complements, not replaces, your regular toothpaste. Use it before brushing with your usual toothpaste for optimal results.
What stains can it remove?

Designed to eliminate various stains and yellowing, including those from coffee, tea, food, wine, and tobacco. Unlike abrasive alternatives, our non-abrasive, enamel-safe formula ensures effective whitening without harming your teeth.
Will it cause tooth sensitivity?

Absolutely not. Our peroxide-free formula is gentle on teeth and gums, free from PEG, parabens, and phthalates. It features Strontium Chloride Hexahydrate, known for sensitivity relief, forming a protective barrier over nerve endings for a pain-free experience.
Is it safe for dental work?

Certainly! Smirk® Teeth Whitening Powder PAP Pro is safe for caps, implants, bridges, veneers, and bonding. It helps maintain consistent coloration by keeping natural teeth the same shade as dental work, ensuring an even, confident smile.
Tap to get a free powder (with code BRITE)
You've got a free powder (with code BRITE)
Teeth Whitening Strips Pro
Regular price
$32.00
Sale price
$25.00
Unit price
per