Regular price
$45.00
Sale price
$25.00
Unit price
per
Use our signature peroxide-free powder to polish your teeth for a whiter, brighter smile without harsh ingredients.
Smirk® Teeth Brightening Powder is the gentle, safe, dentist-approved way to whiten teeth at home.
Remove even the toughest coffee, tea, or tobacco stains by applying Smirk Powder one to two times per week. Our signature mint powder is safe even for sensitive teeth.
The cleansing power of green tea supercharges our micro-fine powder to create a brighter, whiter smile!
When used as directed each pot of Smirk powder lasts for approximately 6 months.
PS: Our brand new PAP Pro Teeth Whitening Powder has just been released, and it's clinically proven to be even more effective… 
Naturally whiten without nasty bleach

Removes stubborn stains from coffee, wine, or smoking

Clinically proven to brighten teeth

Safe, gentle, effective teeth whitening.

Convenient addition to daily dental routine.

Active Ingredient: Pentasodium tripholyphospate (STP)
Tailored for those with stained or yellowing teeth from coffee, wine, or smoking. Gentle on sensitive teeth.
people are currently looking at this product
Tap for a free powder (with code BRITE)
You've got a free powder (with code BRITE)
Next Day Delivery | Money Back Guarantee
Additional Information

Use Smirk® Teeth Whitening Powder once or twice a week before using your usual toothpaste.
Dampen your toothbrush and dip it into the pot so that bristles are coated in the powder.
Brush each quarter of your mouth for 30 seconds, using small circular motions on the surface of your teeth. Avoid your gums.
Rinse your mouth and brush with your regular toothpaste, as usual.
Ingredients

Calcium Carbonate, Sodium Dodecyl Sulfate, Strontium Chloride Hexahydrate, Camellia Sinensis Leaf Extract & Aqua & Glycerine (Green Tea), Mentha Piperita (Peppermint), Saccharin, Pentasodium Triphosphate & Allantoin.
View full details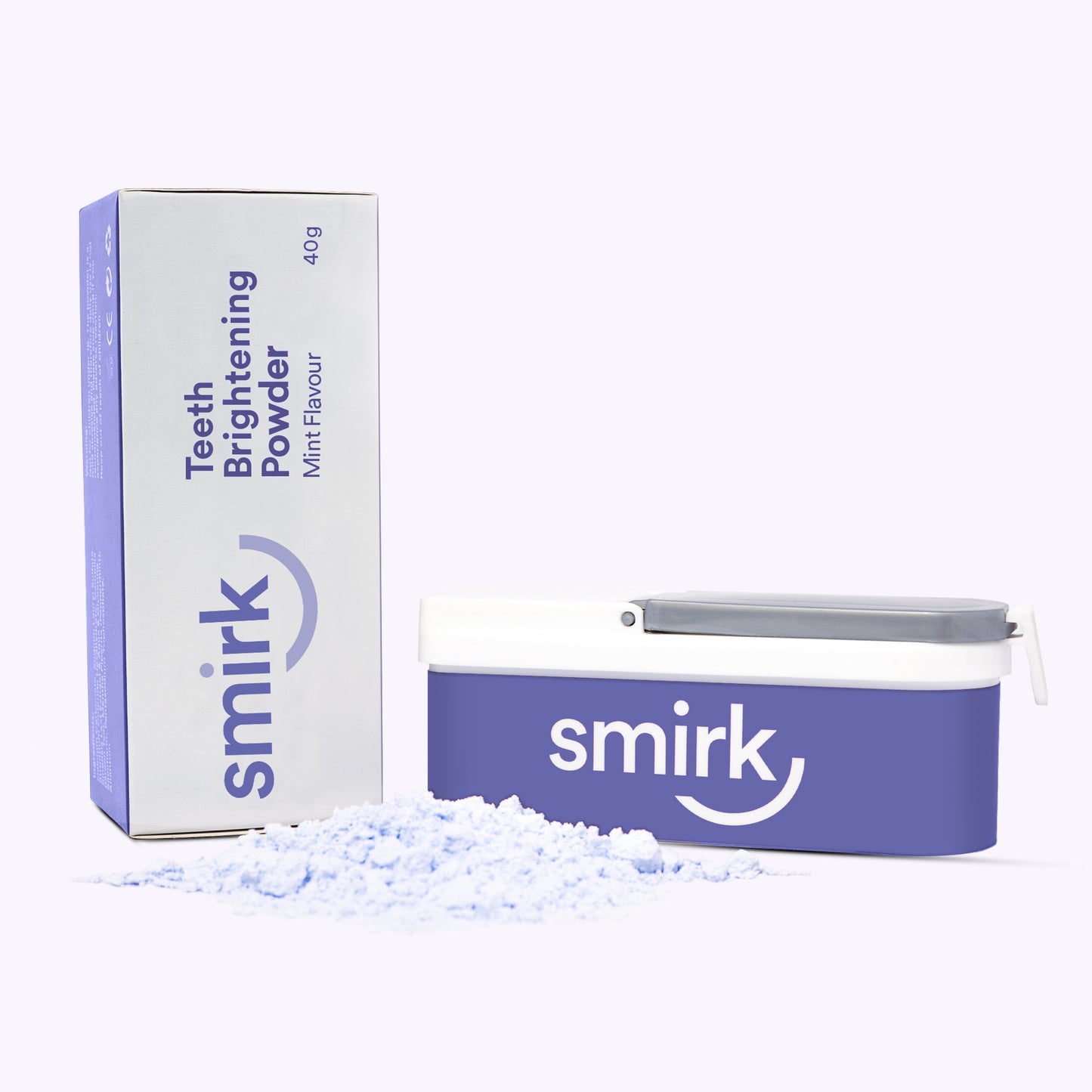 Why peroxide-free?
Bleaching agents like peroxide have an aggressive whitening mechanism called free-radical oxidisation, which has some detrimental side effects.
Among these side effects are sensitivity, irritated gums, and the loss of minerals in the tooth. Dentists limit these reactions with in-chair treatments, but at-home treatments are riskier.
We use Pentasodium Triphosphate (PT) as our primary whitening ingredient. The PT method is a safer alternative to peroxide because there are no free radicals released. As a result, no damage is done to the gums or enamel.