Regular price
$78.00
Sale price
$71.00
Save 17%
Unit price
per
people are currently looking at this product
Reveal hidden plaque, and eliminate stains! Introducing the Indicate & Clean Bundle, the perfect duo for maintaining a stunning, healthy smile with minimal effort. Combining the power of our best-selling Ultrasonic Tooth Cleaner and the innovative Plaque Indicator, this bundle is specially designed to provide a comprehensive oral care solution. Achieve professional-level results from the comfort of your home with these revolutionary products.
Ultrasonic Tooth Cleaner: Transform your smile with the Ultrasonic Tooth Cleaner Pro. This ultrasonic toothbrush uses high-frequency vibrations per second to break down plaque and gently lift away teeth stains caused by coffee, tea, or wine. Its sleek design and easy-to-use interface make it a breeze to achieve a cleaner, brighter smile.
Features:
19,000 vibrations per second
Wireless charging dock

5 cleaning modes

Plaque Indicator: Smirk® Plaque Indicator is the key to revealing the hidden plaque that your regular scaling or brushing may miss. This innovative serum temporarily stains the plaque on your teeth, making it easy to spot and remove. Say hello to a dental-grade scale and polish at home!
Features:
Fast-acting formula
Incredibly easy to use
Helps to improve scaling
Removes plaque & improves oral hygiene

Removes stubborn stains from coffee, wine, or smoking.

Toothbrush attachment for effective cleaning, whiter smile.

Save time and money scaling at home.

Eliminate interdental plaque & stains
Tailored for those with stained or yellowing teeth from coffee, wine, or smoking. Gentle on sensitive teeth.
Tap for a free bamboo toothbrush
You've got a free bamboo toothbrush!
Free Next Day Delivery | Money Back Guarantee
View full details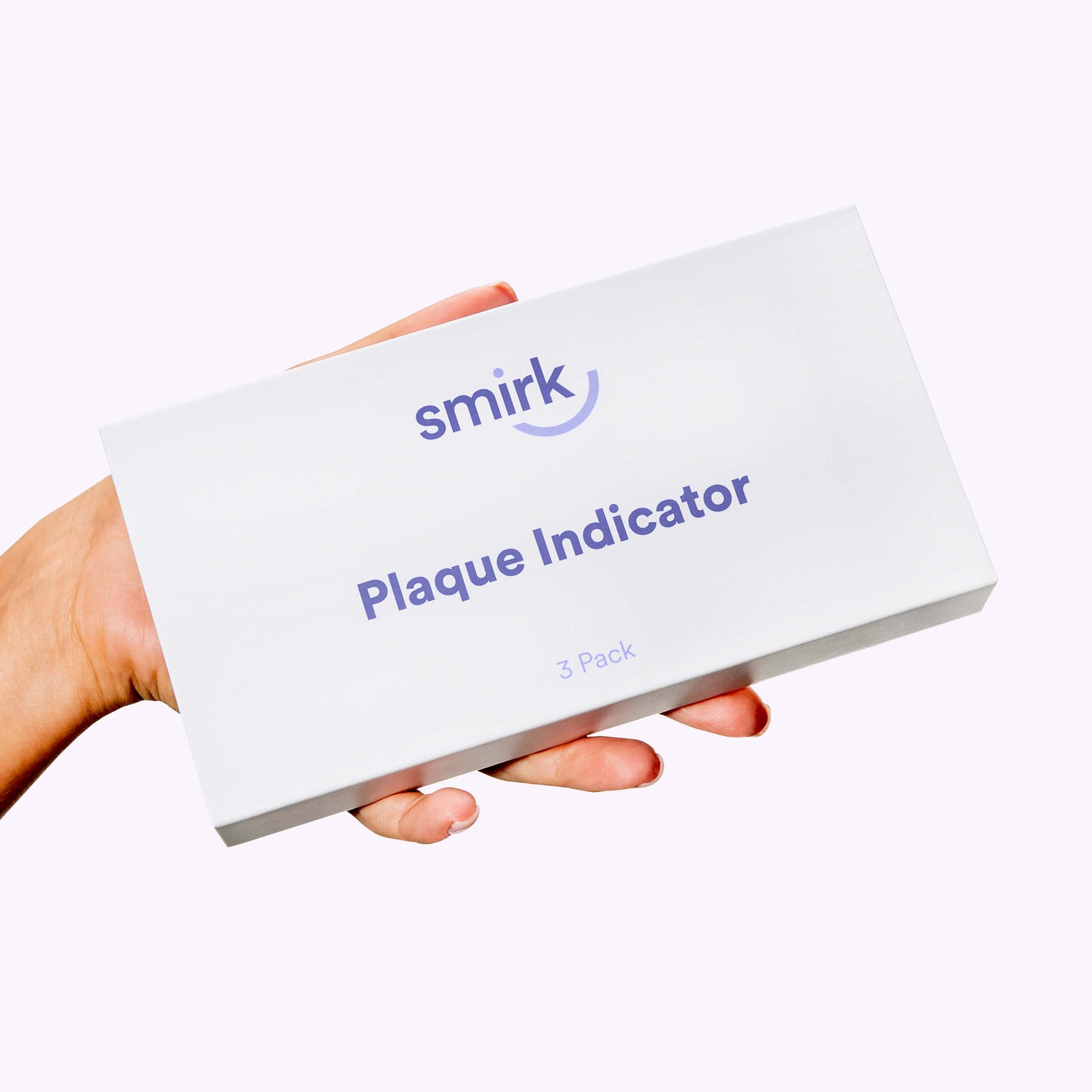 Why scale & polish?
The effects of poor dental hygiene can be devastating for teeth and gums. In addition to being expensive, it can also lead to bad breath, gum disease, receding gums, dental decay, and even tooth loss.
In minutes, the Smirk® 3-in-1 Ultrasonic Cleaner Pro removes any plaque and tartar from your teeth, as well as any stains with over 19,000 vibrations per minute!
F.A.Q
What if I have veneers, crowns, bridges, implants or fillings?

No problem! Use the ultrasonic cleaner around the teeth and gums to remove hardened plaque. 
Can I use this on composite bonding? 

Yes! Our ultrasonic cleaner and powder are the perfect combination for this. Use the ultrasonic cleaner around the teeth and gums to remove hardened plaque.
Does this remove plaque and tartar build up? Haven't been able to get a hygienist appointment at my dentist.

Yes, of course! Our ultrasonic tooth cleaner is designed to effectively remove plaque and tartar buildup. The device uses high-frequency vibrations to break down and loosen stubborn deposits on your teeth.
Can Smirk® Ultrasonic Tooth Cleaner be used on dentures?

Yes, you can use the ultrasonic tooth cleaner on dentures. The device is gentle enough to clean denture surfaces without causing damage.
Is Smirk® Ultrasonic Tooth Cleaner safe to use?

Yes, the Smirk® Ultrasonic Tooth Cleaner is safe to use when following the manufacturer's instructions and guidelines. The device is designed to gently and effectively clean your teeth without causing damage to tooth enamel or gums. However, if you have any concerns or pre-existing dental conditions, it's always a good idea to consult your dentist.
Tap to get a free Bamboo Toothbrush
You've got a free Bamboo Toothbrush!
Indicate & Clean Bundle | Reveal Hidden Plaque, Eliminate Stains!
Regular price
$78.00
Sale price
$71.00
Save 17%
Unit price
per